Places to visit in India: Top 10 sites in South India on the India's Cup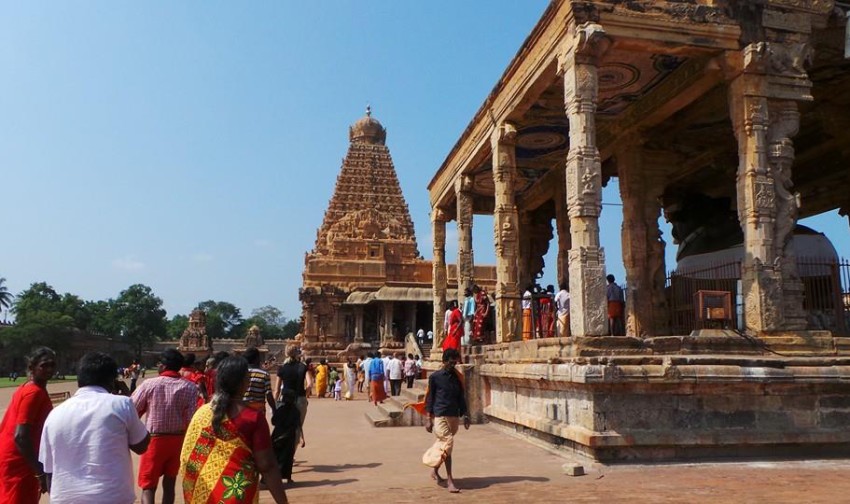 The India's Cup has been over for over 10 days, which has given us a chance to reminisce about all the wonderful places to visit in India on the way. Our inaugural adventure car rally took us on quite a journey around South India, where we may have broken down a lot, but we did see some amazing sites on the way.
Here's the list of our top 10 places from the very first India's Cup.
1. Hampi, Karnataka
Hampi happened by accident, a spontaneous detour that occurred once we realised that driving to Mumbai and Pune after starting the India's Cup a day late, as well as realising that driving our Ambassador cars over such as long distance as planned, was quite a long shot. However, one thing we did not account for were the terrible roads we had to tackle between Hyderabad and Hampi, but visiting this ancient city that sprawled on for miles, accented by out-of-this-world boulders and giant monkeys was an amazing experience, and it's easy to see why it's one of the top places to visit in India.
2. Kerala's Backwaters
Kerala is a special place, unique for its famous palm clad backwaters shading rice paddies and hidden canals. Even though we simply drove from Kochi to Trivandrum, we did have the chance to off road a bit to catch a glimpse of the famous houseboats drifting down the canals.

3. Golconda Fort, Hyderabad
There is one positive side of breaking down in Hyderabad, and that's you get to visit Golconda Fort and the rest of Hyderabad. This towering relic from Qutb Shashi Dynasty, Golconda Fort is India's second largest fort and a labyrinth in its own right. A spectacular site on the India's Cup route, and one we hope to visit again.
4. Mysore Palace
A relic from the time when India had maharajas, Mysore Palace is India's second most visited place in India after the Taj Mahal. Designed in an Indo-Saracenic style, the interior of this palace looks like a jewel, but don't even think of taking a photo, as we found out from an unpleasant encounter with a security guard.
5. Goa – on the beach and beyond
Everyone loves Goa, whether it's sitting on the beach with a cocktail in hand or exploring the colourful streets of its capital Panaji. We based ourselves in Panaji on our rest day, but because we love Goa so much, we've decided to end our next winter run inspired by the Southern Xpress in Panaji – that way we all get to spend time at the beach!
6. Meenakshi Amman Temple, Madurai
The vast, multi-coloured temple in Madurai was one of the highlights of the India's Cup trip. The temple is not only decked out with 14 Technicolor gopurams towering in 45-50 meters in height, but the interior of the temple is just as colourful, with long corridors decked out in pinks, greens and reds. One of South India's most spectacular temples!
7. Kochi's Chinese Fishing Nets
Up in the historic part of Fort Kochi in Kerala's northern city, the rows upon rows of Chinese lift nets was a surreal sight. In the morning, we got to see some of the fisherman in action with the first catch of the day. The technique dates back centuries and originates from China, but the origin of the story is not entirely certain, which add an element of mystery to these vast nets.
8. The Tea Gardens at Ooty
Tea is a big part of India's culture and history, and while we might be miles away from the tea gardens in Assam and Darjeeling (although join us on our Gangtok to Chennai Run and you'll get the chance then), we drove up into the Western Ghats to the world of tea in the Nilgiri Hills through Ooty. This was one of our most spectacular drives, with tea gardens all around us in brilliant greens, coupled with sharp hairpin bends on the way up and down.
9. The Brihadeeswarar Temple, Thanjavur
One of India's largest temples and a part of the UNESCO World Heritage Site's "Great Living Chola Temples" category, which leaves no doubt that this is one of the highlights on the India's Cup. Not only is the complex over 1000 years old, with intricate sculptures and a 66m vinaman (temple tower), it's still a living place of worship even today.

10. Undavalli Caves, Vijayawada
While we had to wait for one of the cars to be fixed, we had the chance to explore the monolithic temples at the Undavalli Caves. These were a stunning example of Indian rock-cut temples carved out of sandstone. These caves date back to the 4th and 5th centuries AD, which were originally Jain, but also contain Buddhist art work as well as a huge reclined statue of Vishnu.
Liked this article? Getting itchy feet to travel and find adventures? Then join us on the next
India's Cup
. Then get a team together and lets see you at the starting line! If you want to join us in spirit, like us on
Facebook
or follow us on
Twitter
to keep up with our latest antics.