Going Goa Gone: India's Cup Rests Up in Goa Before Heading South Again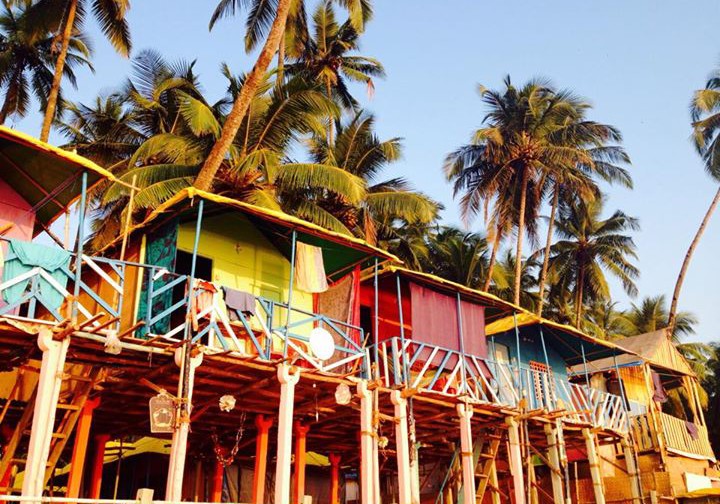 From swaying palms and sandy beaches to Panaji's winding colourful streets, our rest day in Goa saw the fellowship of India's Cup part ways. The Sarriors went down to the sandy beaches of Agonda, while other teams opted for neighbouring Palolem for their beachside paradise before we continued with our next leg of the Southern Xpress.
Not being a beach person, I stayed up in the official hotel in Panaji and decided to explore a different side of Goa.
Ever since I read about Panaji, I was excited to stroll around the former Portuguese neighbourhoods of Fontainhas and São Tomé, known for their tight Mediterranean streets, coloured houses and general Latin savoir faire.
The first thing I noticed was how walkable the city is, and when compared to other Indian towns, it was also extremely clean. I had started to feel slightly homesick for Europe, so exploring the famous white-washed Our Lady of the Immaculate Conception Church, sitting on the steps looking down at the colourful boulevard below, made me feel at home again.
A bright blue building houses the famous Singbal's Book House, a mishmash of stacked English language books ranging from bestsellers to Ayurvedic tomes and translated Indian classics. This eccentric shop also featured in a cameo role in the Bourne Supremacy, but bibliophiles like myself will love this shop. But be warned, you might need to add some extra luggage going home since each book costs around 200 rupees (roughly a couple of pounds).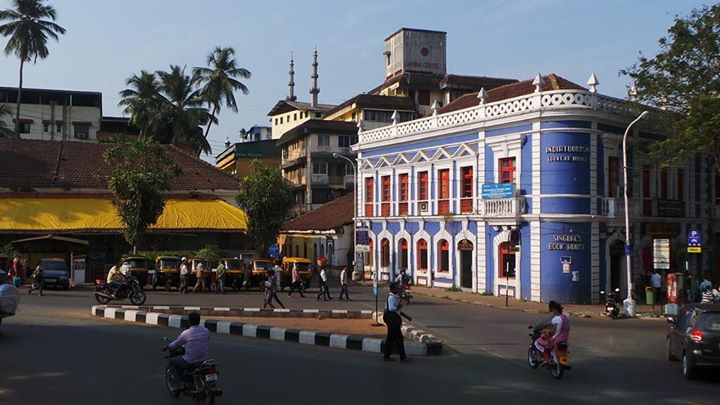 After getting lost and eating some excellent fish curry, I hopped on a local bus to Old Goa to check out the Portuguese churches and cathedral in what was once the historical capital of Goa. This historic town is actually home to the Sé Cathedral – the largest church in Asia, as well as historic buildings like the Basilica of Bom Jesus and the ruins of the St. Augustine Monastery.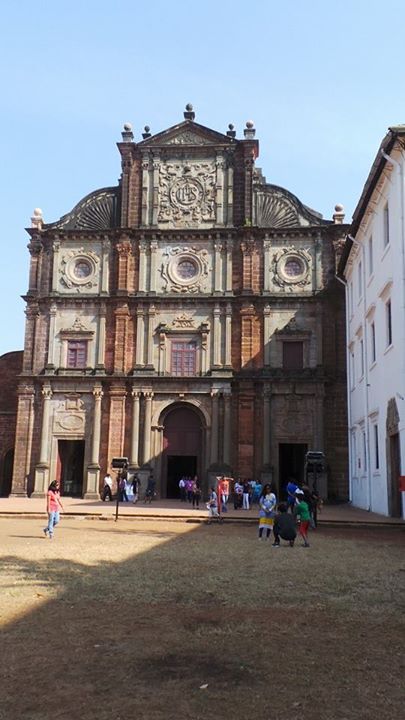 Leaving Goa was hard for everyone. For me it was a break that took me back to Europe; for others, it was a beachside retreat to gather strength before our next leg. Despite the collective melancholy of saying goodbye to palm-clad beaches, we headed off down south to Mangalore.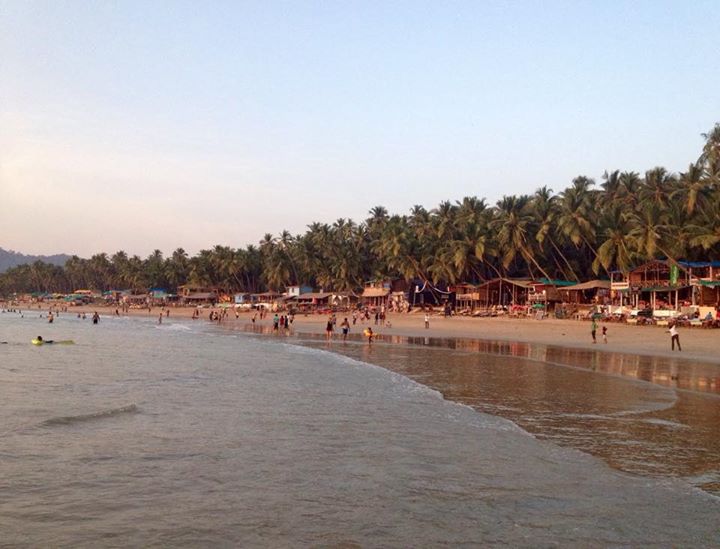 The journey to Mangalore was rather uneventful. Rabbit Adventures got another Ambassador driven up from Chennai the night before, so they could continue onward on the journey, although Zoli had to leave us in Panaji as he had an flight to London to catch.
Before reaching the hotel, Princely pulled up to a car park in Udupi and recommended we visit the temple there. After downing a cup of chai, we decided to see what was going on, even though we felt over saturated by temples already.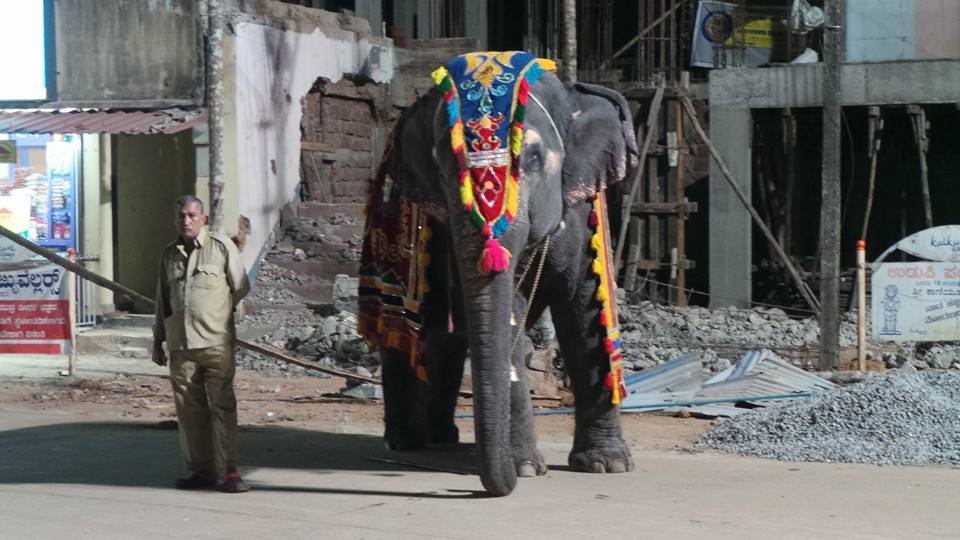 The smell of incense hung in the air and crowds of people shuffled by barefoot in the huge queue into the small temple. However, the surroundings of the Sri Krishna Temple were unusual.
The resident elephant marched past us, dressed up in bright colours and bells, and huge chariots were lit up ready for a celebration. This temple was no ordinary place of worship, but rather, resembled an ancient ashram with the curried smell of spices wafting out of the many kitchens on the complex to people praying in smaller rooms. The place had also attracted its own fair share of hippies, which is to be expected in a temple devoted to Krishna I suppose, not to mention a healthy population of cows.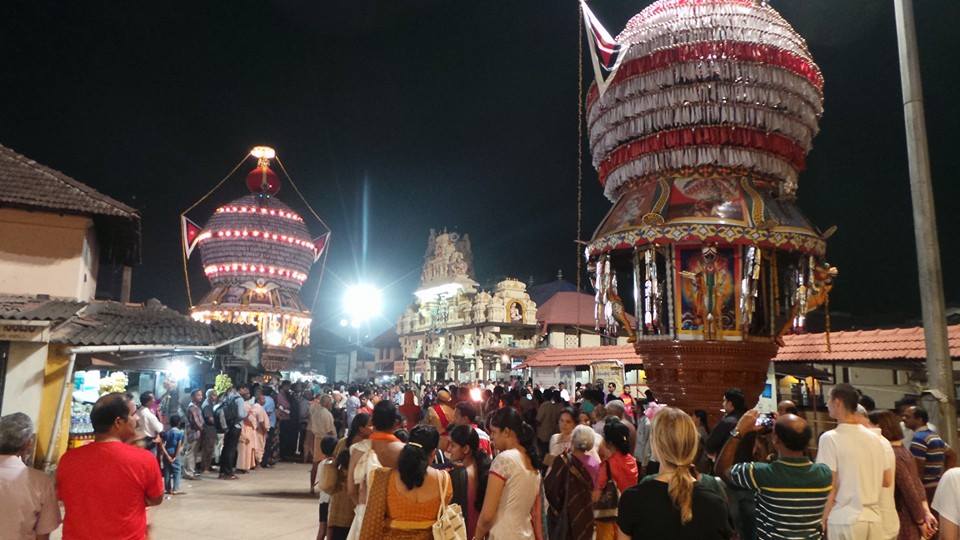 The elephant lead the procession, followed by a marching band of some description and one of the chariots being pulled along, which probably violated every single health and safety rule. We decided to leave before our prediction of a collapsed chariot came true, but not before a child managed to sell me a pack of bangles I decided would make great gifts back home. Indian children are great hustlers, I've learned on this trip so far.
Everyone made it to Mangalore, and Brits Hindipendent Racing went out and bought beer for the whole crew so we could relax for the evening. The worst routes were over for us, since the drive to Mysore the next day would be a fraction of the distances we saw so far. Let's see how the India's Cup continues now we're all back on track to drive across India in our Ambassadors.