Driving to Kochi: Police and Media Attention on the India's Cup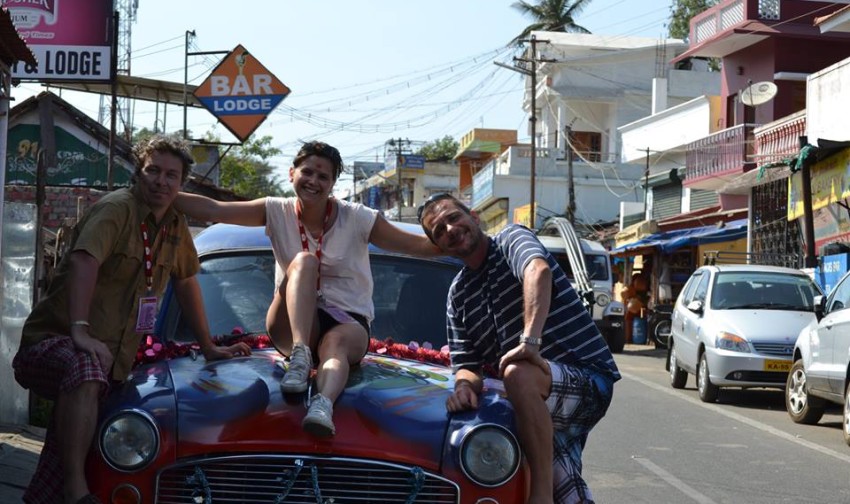 The drive to Kochi might have been uneventful on our side, our teams somehow managed to get in a tangle with the police and attract enough attention to get a story in The Hindu. It appears there is no such thing as an uneventful day on the India's Cup.

Looking forward to our next destination – Kochi – the teams headed out early in the morning to catch Kerala's northern city before the nightfall, although we left later around midday.
Our journey in the staff car was rather uneventful on the way to Kochi. We crossed into Kerala, luckily bypassing the long line of backlogged lorries queued up for the goods check, since there had been a strike on the Kerala side of the border. We passed down by the grey outline of the Western Ghats mountain range, coconut palms and banana plantations down towards the historic and curious city of Kochi at the northern end of Kerala's backwaters.
cc
We made to Kochi in the afternoon, and got bogged down by traffic, which meant it took a couple of hours to reach the hotel. Once we finally got there, we ran into Attila from Rabbit Adventures who insisted we go for a beer before checking out the city. He took us across the road to a bar with no windows, a den tucked behind a sign that said "Wine & Beer". Inside we found the rest of Rabbit Adventures and Hindipendent Racing who made it here earlier in the afternoon. The place was dark, more or less empty, and most of the beers were what I guess you could call cold, although they stocked up the fridge once they saw how much our teams were able to consume.
Hindipendent Racing had a mostly uneventful day, heading off early, arriving early, although their Ambassador did break down in the middle of Kochi in the traffic, garnering attention from The Hindu newspaper, who intrigued by our brightly coloured Ambassador cars attempting such a ludicrous feat across India, opted to feature the India's Cup in the paper!
Rabbit Adventures had their own little hiccup on the way, when Attila had an encounter with a police officer. The police officer stopped the blinding Amby, intended originally for the Sarriors since it came painted with the "Power Puff Girls", being driven by our own Attila the Hun. The policeman told Attila that he did not have the right permit to have his car painted so much, and upon seeing his Hungarian driver's license, told him it was not valid to drive in India. However, for 500 rupees (less than 10 euros), he would let him go. Although, he had to fill out a set of ridiculous forms asking for his mother's occupation, high school and other irrelevant bits of information.
"I just signed the form as lófasz* in the end," he said over a beer, "not that it really matters. Who are they going to check all this information with?"
(*Choose to look it up at your own discretion. It's not a family friendly word in Hungarian.)
In an optimistic bid to catch Kochi before sundown, we left the bar and hopped on a tuk-tuk, noting that the drivers here certainly know how to pimp their rickshaw, complete with Bhangra beats, plush seats and ceilings and complete with bling. Good thing our shaw was comfortable (although riding the Rickshaw Challenge had us well trained), since it took almost an hour to reach Fort Kochi, thanks to the traffic, reaching the nets after sundown. It was pitch black, but what we saw of Fort Kochi was a tourist trap with charm.
Most of our route in India's Cup , with exception of Goa, has been relatively off the tourist route, so Kochi came as a pleasant change. Colonial houses dotted the former Dutch and then Portuguese colony lined with souvenir shops selling jewellery, pashminas and pillow cases to cute little restaurants set high up in galleries over looking the streets or set up in fresh courtyards with fairy lights.
After trying some local delicacies, one thing for sure, was we were determined to come back in the morning to see it all in the daylight.