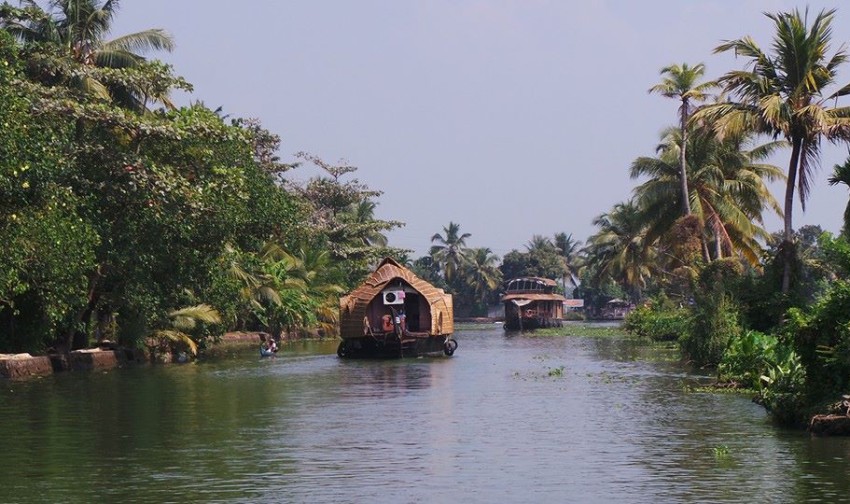 This state on India's southern point is a haven to relax in, not just because of its natural beauty like the stretches of sandy beaches and swaying palms, but mostly because of the relaxed, laid back attitude of the locals. Kerala is India, but a more relaxed version. With rolling tea and spice covered hills looming over palm shaded backwaters, Kerala has so much to offer in terms of natural beauty, but not just that, it boasts some of India's best cuisine and it is also a hub of culture.
Natural beauty found in a backwater
Kerala is geographically lucky with its good looks. Not only does Kerala lie on 600 kilometers of beach and coastline hugging the Arabian Sea, it's also tucked under the verdant mountain range known as the Western Ghats. Linking land and sea, Kerala has a network of famous backwaters winding about the state famous for scenes of wooden rafts and elegant houseboats drifting on tranquil waters under the shadow of coconut palms.
Keralan Cuisine
There are some who say Kerala cuisine is the best in India, but we're not ones to proclaim anything so definite, but we can assure you food from this region is delicious. Firstly, coconuts grow in abundance, so you'll find this nut-fruit in almost ever dish, whether it's sliced or grated coconut kernel, coconut milk or cream, you'll find coconut features heavily in the local cuisine. Also because of the proximity to the sea coupled with the famous Keralan backwaters fish and seafood are featured too. And of course, the food is very spicy and hot, mostly containing chilli, black pepper, cardamom, cloves, ginger and cinnamon, among others.
Because of Kerala's position on the coast, it's also been influenced by foreign merchants and colonists. Kerala has adapted its cuisine, including foreign ingredients, like potatoes as an example, plus the number of European-style bakeries found in the area.
Culture of Kerala
Like the rest of South India, Kerala is a mix of Dravidian and Aryan cultures, but has also been influenced by foreign cultures too. You'll find Tamil culture has influenced Kerala, most notably in music, dance, language and literature. However, even though Tamil culture and Keralan culture share a common root, Kerala evolved through its Sanskritization, a form of social change encompassing reform movements against caste discrimination.
Theatre is a big part of Kerala's culture, such as the famous koodiyattom, a form of Sanskrit drama that is protected by UNESCO. The 500-year-old art form of kathakali is a dance drama that tells the story of ancient epics. There are more art forms found in Kerala's theatres, too many to list here.
The music in Kerala is dominated by classical Carnatic music, which is typical for South India, but modern, popular music in the region is dominated by music from Indian cinema.
Elephants and Snakes
Elephants are important in Keralan culture and hold a prestigious place in the state. They are often called "sons of the sahya", which is another name for the mountain range the "Western Ghats". The elephant has such an important role that it even appears on the emblem of the local government and is the official state animal, so keep an eye out for these beautiful creatures.
Another interesting animal link is the Sacred Grove of the Serpent, Sarpa Kavu, although not so much for the animal itself. These small traditional grove of trees come with representations of the serpent gods, a relic of Kerala's snake worship in the past centuries.
Kerala