A Maharajas' Palace and Incidents with a Corrupt Security Guard: India's Cup Does Mysore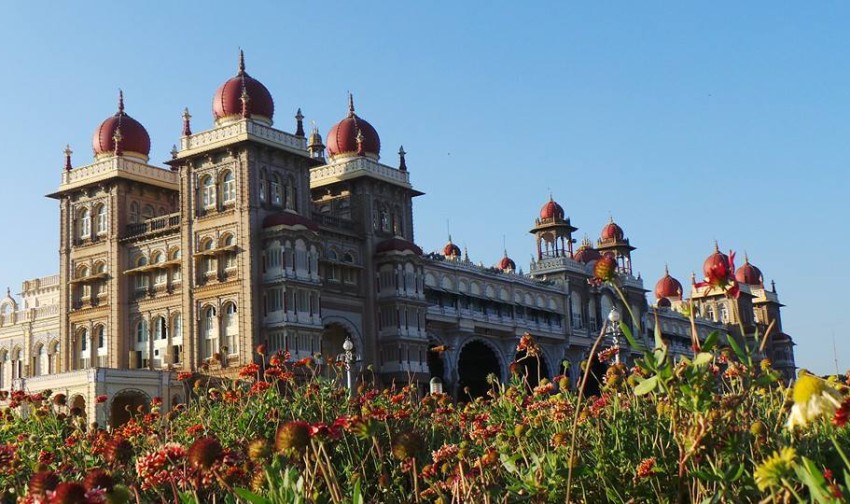 Despite the winding roads swerving up into the Western Ghats, our journey to Mysore turned out to be the shortest on the road yet. We even made it in time to explore Mysore's famous palace, although not without incident since we had an unpleasant interaction with one corrupt security guard.

Since there weren't any show-stopping sites to explore in Mangalore, we headed off to Mysore straight after breakfast so we could make it in time to visit the palace.
The route from Mangalore to Mysore was certainly one of the most picturesque routes so far on the India's Cup, winding up into the Western Ghats mountain range dotted with towering coconut trees and banana plantations. Spice, coffee and honey shops punctuated the sharp turns all the way down to the plains near the city of Mysore. By 4.30pm we arrived at the palace just in time to catch a glimpse of the interior.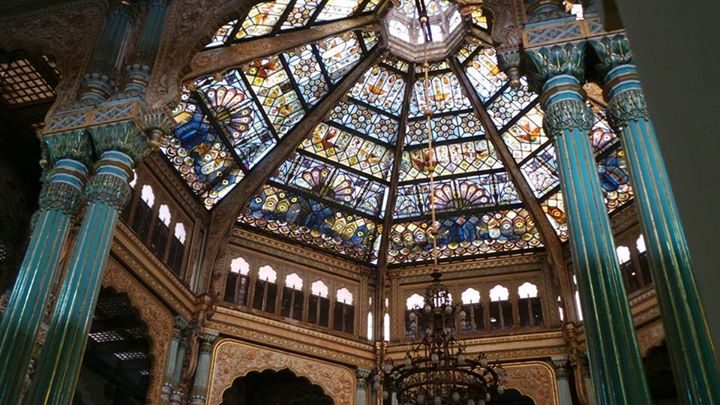 Even though rumour has it that Mysore Palace is India's second most visited sight after the Taj Mahal, it was only constructed (or rather reconstructed) in the early 20th century by a British architect Lord Henry Irwin, whose buildings can be found all across the former British India, most predominantly in Chennai. However, despite being as Indian as Chicken Tikka Masala, the palace is a relic back to the era of India's Maharajas.
The ostentatious palace felt slightly overhyped, but I was still interested to look inside. Getting to the entrance was hard enough though, since we had to battle pedlars shoving sandalwood scented fans in your face.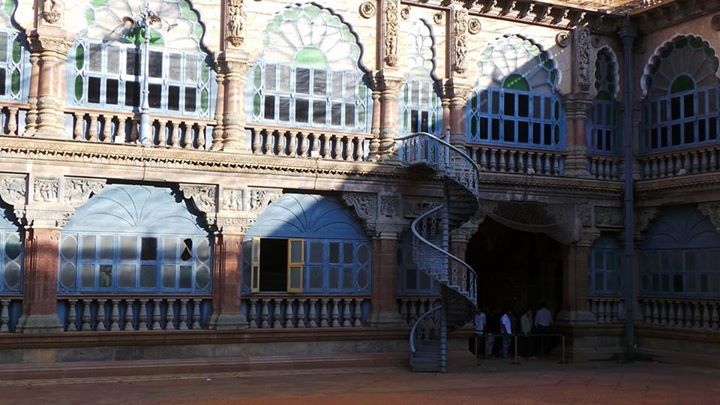 Visitors were shuffled through like cattle, with security checks and signs saying no photos, but entering the Marriage Pavilion on the ground floor, noted for its turquoise columns and stained glass windows, I noticed everyone was snapping photos inside. I decided to steal a few candid shots, since everyone else was doing it. The signs were not clear when I came in (and I did not see the camera cloakroom at the entrance), and so far I've found that rules in India are more like guidelines.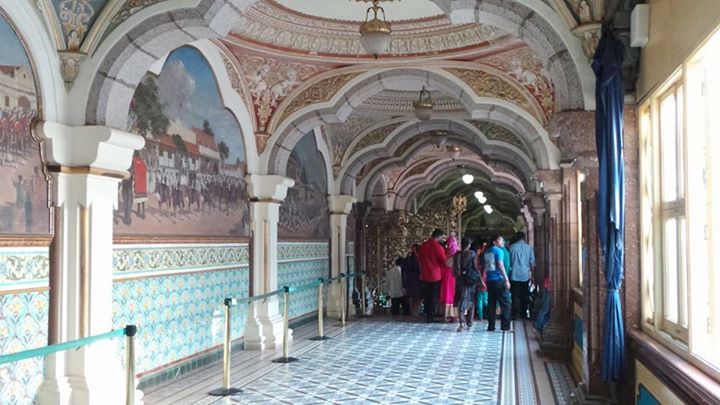 We shuffled down the corridors, past relics and portraits left over from the days of the Maharaja. Upstairs, in the grand Public Durbar Hall, a forest of turquoise arches opened out onto a veranda topped with bright frescoes.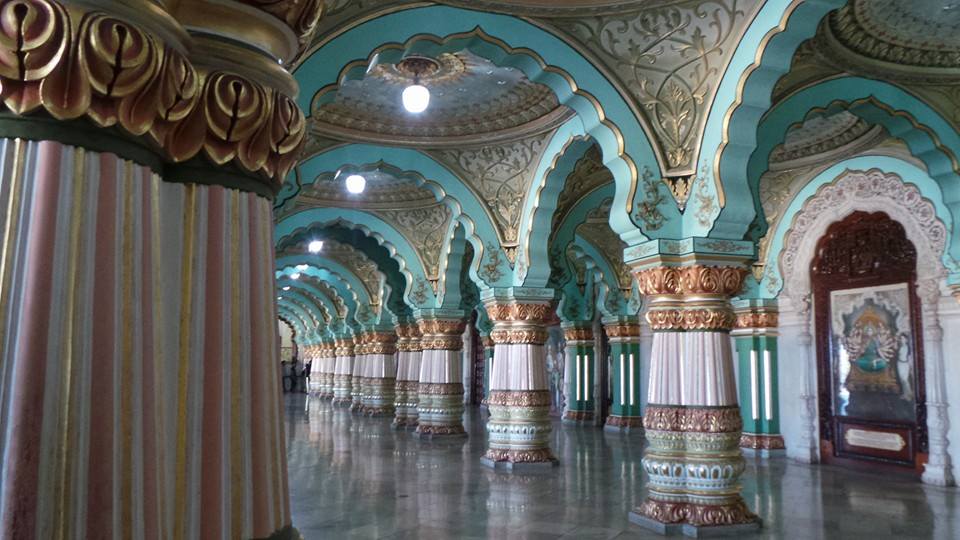 However, despite everyone around me taking photos, a security guard singled me out and called after me. I figured it was a better call to ignore him, but I saw him trailing me out of the corner of my eye as I wandered round the hall only to find him waiting for me at the exit. I could sense a confrontation coming on and my fight or flight instinct kicked in as he blocked my exit, shouting at me and demanded my camera (which was at the bottom of my bag now). I had a couple of options, do as I told and never see my camera again, ignore him, which may incur more unpleasantness or just play dumb. I opted for option three and replied in Hungarian pretending not to understand English. It's useful knowing a language most people don't understand.
"Where are you from?" He asked. I almost broke my cool by actually replying to his question, but instead burst out "I need the toilet" angrily in Hungarian and shoved past him. I was so not in the mood for this.
Turns out I wasn't his only victim. Others in our group experienced a similar encounter, but went with option one and gave him the camera, only to have to fight to get it back – despite all the Indians taking photos right next to him.
"It's OK for them, not for you, they're my people." He said.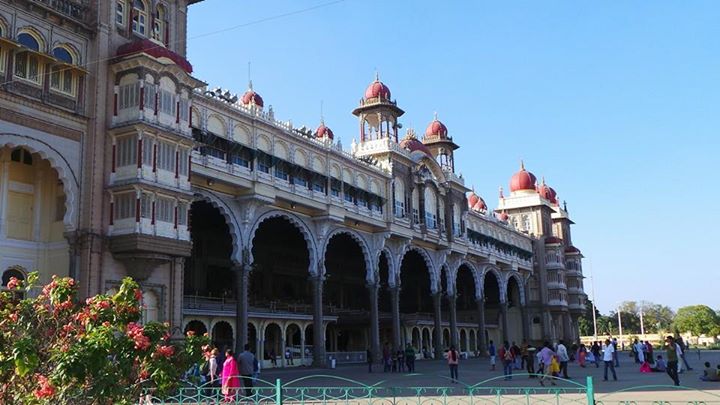 Although, he did not notice that once of the local staff members from the India's Cup was with them, and after some tough negotiations, luckily no one had to pay Baksheesh in the end. Although, after reading stories from other travellers to Mysore on the internet, such encounters often ended with bribes.
Fortunately, we all made it out with our cameras intact. Here are the photos I took – I hope they were worth it!