More Car trouble. Traffic and Cave Temples: Pushing on with the India's Cup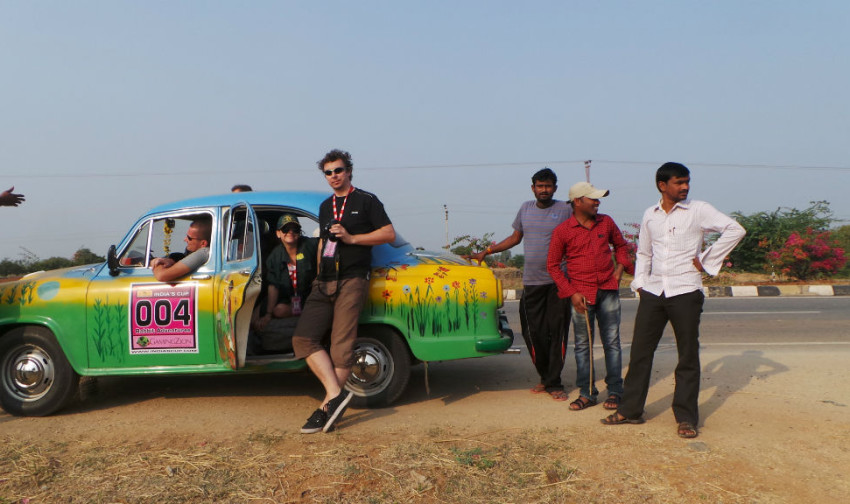 The GamingZion India's Cup Southern Xpress got off to a bumpy start, but can we push our classic Indian cars to our next destination – Hyderabad?
After yesterday's challenge of getting the Ambassadors on the road, our dampened spirits found consolation in beer when we arrived in Vijayawada around midnight. Foregoing any challenges or briefings like we had on the Rickshaw Challenge, everyone on the India's Cup just wanted to hit the road and make it to Hyderabad, a historic city in the newly formed state of Telangana.
Hindipendent Racing and The Sarriors took off immediately after breakfast, but team Rabbit Adventures was still stuck in Vijayawada, waiting for a new exhaust pipe. With at least an hour to kill, we decided to use the time to see a little of the town, so we hopped in a couple of rickshaws and took off to the Undavalli Caves.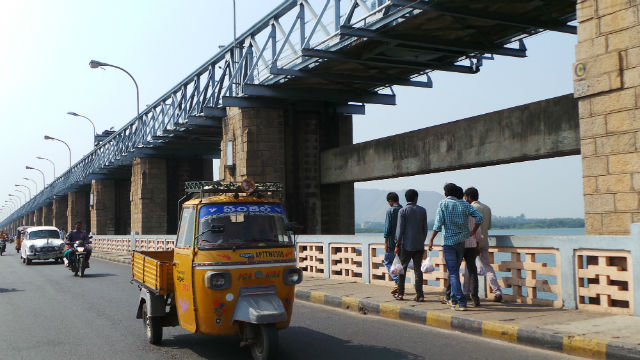 By day, Vijayawada is a breezy town surrounded by sculpted hills and a network of canals that diverge into the wide Krishna River, something none of us noticed, or cared about, when we drove in at night broken and bruised. Our rickshaw whipped round the city, over bridges and past a surreal statue park dedicated to Avatar (I have no explanation other than it's India).
We crossed over the Prakasam Bridge, stretching 1.2km across the Krishna River comprised of arches stretching across the glimmering blue water and chaotic Indian traffic set to the soundtrack of beeping horns, but away from the chaos of the downtown we made it to the 4-5th century Undavalli Caves overlooking palm trees and rice fields.
As we climbed up this monolithic monument carved out of sandstone, the air felt cool thanks to a man watering the grass with an unstable hose that sprayed everywhere. The Hungarians got mobbed, or rather Attila got mobbed, who became a local celebrity as groups of young men kept asking for photos with him by the carved reliefs of elephants and tiger statues.
This cave temple began life as a Jain monument, but still carries Hindu and Buddhist elements. On the top story, a giant sculpture of a sleeping Vishnu lies carved out of the living rock, and is still a holy shrine for devout Hindus.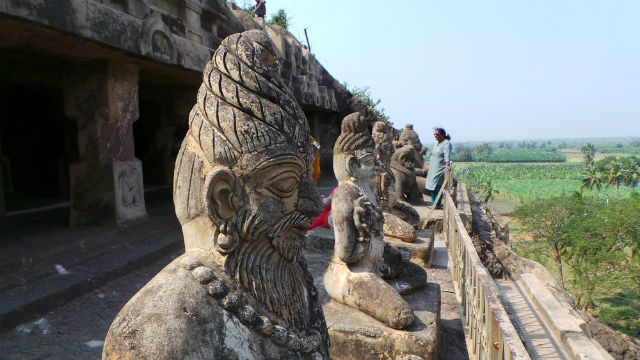 The Hungarian team were anxious to hit the road, however Attila got delayed by more fans, much to Zoli's distress who wanted to get to the next destination before dark… not that it made any difference. When we reached the hotel, the mechanics still tinkered with their Amby, so we grabbed some dosas before the car was deemed roadworthy.
Riding along in the support car today, I thought we were going to be in for a smooth ride, but half an hour after leaving Vijayawada, we heard Rabbit Adventures had broken down yet again. After waiting around for an hour for repairs we hit the road as a convoy, stopping every 20 minutes since the Hungarians had problems with their bonnet.
"We need beer," Balázs said before walking off to a nearby shack, returning with a few bottles of Budweiser before the team drove off, only to stop about 5 times before we even finished our beer.
Princely had the idea to use shampoo to lubricate the car, taking a micro-bottle I swiped from the hotel, as one does in hotels, but that still didn't solve the problem of keeping the dented hood from clicking open every other mile.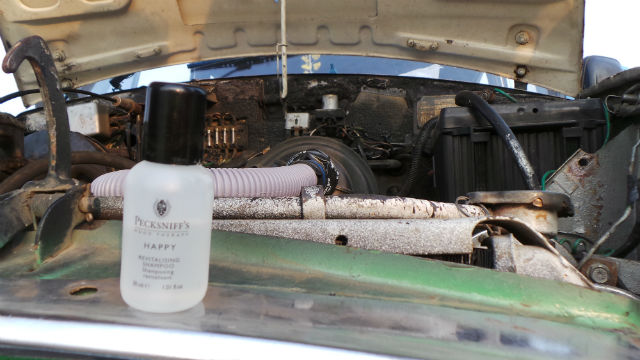 Eventually, they had the smart idea to tie up the bonnet to the front of the car, however in execution, they found the rubber band didn't really work. But not all was lost, a tiny shack on the edge of the road by a petrol station had a variety of wires and ties that managed to do the job and got us to the city.
Unfortunately, we did not make it to Hyderabad before dark as we had hoped, and we counted our blessings since at least we hadn't had any major breakdowns for the day at the time. Our cars are slowly warming up, We hope!
The other teams made it to Hyderabad by day, after stopping by a giant statue of a monkey god in the countryside before experiencing some terrible downtown traffic in Hyderabad.
We, however, lost our way. Princely left us at a mosque to go in search of the Hungarians, who broke down just after we lost them entering the city, and there seemed to be a communication problem in our car about the hotel name. Our GPS brought us to an alleyway in the middle of nowhere, with nothing but rubble and stands of street food. Prashanth did a good job getting us out of the labyrinth, but we arrived at the hotel exhausted. Although we did get back in better shape than Rabbit Adventures, who enjoyed a 2-hour rickshaw drive to the hotel, drinking beers on the way much to the driver's disapproval.
Because of the lost day in Chennai and the state of our Ambassador cars, we decided to change our route and skip Mumbai and Pune, opting to go south to Hampi instead. Let's see what adventures we have in store for us on our next leg of the inaugural India's Cup Southern Xpress.