Dabbawalas in Mumbai Take a Step Towards Helping the Poor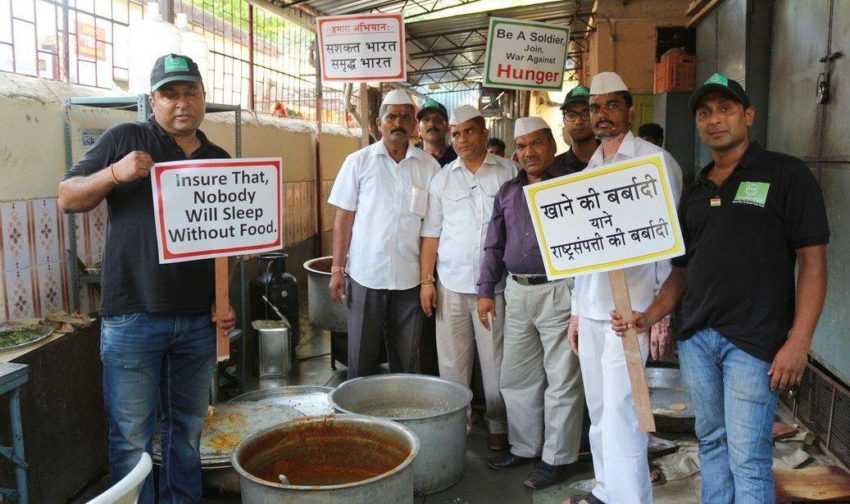 To fight hunger in the busy city and raise awareness, Dabbawalas in Mumbai decided that they would do everything in their power to make sure that poor hungry people got fed.
If you're looking at your device's screen, furrowing your eyebrows with no idea whatsoever about what a "Dabbawala" could be, don't worry; we've got you back! The word "Dabbawala" translates to "the one who carries the box."
So, add some food to the equation and you can guess that people called this name are food deliverymen (and sometimes, women.)
According to their website, the first "Dabba" came into existence 125 years ago, when a Parasi banker decided that he wanted to eat a home cooked meal in his office everyday. He commissioned an employee to deliver him these meals, and thus began the trend of dabbas in Mumbai. The number of people who wanted to eat home cooked meals in the office increased rapidly, and Mahadeo Havaji Bachche saw that this was a great business opportunity. So, he created the first ever lunch delivery service with a hundred Dabbawalas.
Today, there are 5000 Dabbawalas in Mumbai, and they decided to help out poor people who are hungry. With the support of Roti Bank, 400 deliverymen are working everyday to help donated food reach the less fortunate. The idea is that after weddings and parties, there is a lot of food left over. Instead of throwing all of it out – which is by the way, incredibly wasteful – people can donate it to the ones who need it the most. As they put it on Roti Bank's website: "This festive season don't feel guilty of dumping excess food in the garbage bin, instead call the dabbawala's of Mumbai to get it picked up from your home and be delivered to those in need."
The initiative is gaining so much popularity that the Dabbawalas in Mumbai and Roti Bank are planning on setting up drop point where people can bring by the leftover food. This would be especially helpful when talking about smaller quantities – Mumbai is a large city and although 400 Dabbawalas are working round the clock, they are slammed with scheduled pickups and struggling to satisfy all orders.
Thankfully, this isn't the first time somebody thought of solving the age-old problem of food going to waste while people are starving: Minu Pauline of Kochi, the owner of Pappadavada put out a fridge in front of her restaurant so that people could leave the excess food they bought in it for the poor.
In any case, both of these cases are examples worth following, n'est-ce pas?
Are you crazy enough to come along for the ride? Then join us on the next
India's Cup
. Get a team together and let's see you at the starting line! If you want to join us in spirit, like us on
Facebook
or follow us on
Twitter
to keep up with our latest antics.
About the Author