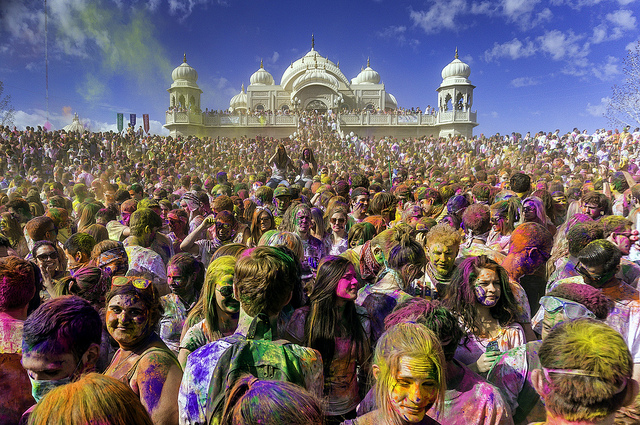 Holi has taken the whole world by a whirlwind of colour; it is no longer a celebration only observed by Indians – Westerners throw huge parties in honour of it, too. But getting back on a more ancient track: what are the traditional rituals of Holi exactly?
Photo by Steven Gerner
This year, the festival of Holi was held on March 24. More specifically, it started on this day. The series of celebrations are usually a two-day deal, following the ancient rituals with devotion, to the letter.
Before the Festival Begins
People start cooking! There are many delicacies that are Holi-associated, like Gujiya (made with sweet milk and fruits,) or Thandai (a drink with milk, dry fruits and saffron, served in Rajasthan.) People also start collecting wood at some crossroads of cities and villages for the bonfire that would burn on the eve of Holi.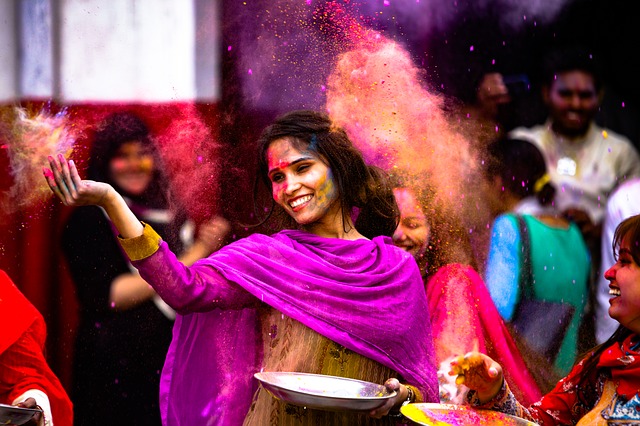 Holika Dahan Celebration
When the eve of Holi arrives, the ritual of Holika Dahan begins. During it, people burn the effigy of Holika on the bonfire. Holika was the evil sister of the demon king Hiranyakshyap, who tried to kill his own son Prahlad, for not worshipping him, but having faith in Lord Vishnu instead. The plan was for Holika to bring Prahlad into the fire in her lap, so that Prahlad would die – she had a cloak that protected her against the flames. However, she didn't know that the cloak only worked when she was alone, so the plan backfired: she died and Prahlad was saved. In other words, Holi is the celebration of the ultimate victory of good over evil.
Matka Ceremony
In the areas in and around Mathura and Vridavana, they have a ritual during Holi called the Matka ceremony. It is basically a game of teamwork: a big earthenware pot is tied high above, so that nobody can reach it. The objective of the game is for boys to form a huge human pyramid, and finally break the pot by hitting it with a stick. During the game, the girls would make ropes out of their saris and hit the boys with them to make attempts to break the pot unsuccessful. The whole thing is playful, with teasing and throwing colours at each other. Originally, it was done in the Braj area of India, but due to Bollywood making it popular, it has become a trend all over India.
Playing with Colours
Although most celebrations and rituals in India have a Puja ceremony, there isn't one on the morning of the second day of Holi. (Side Note: A Puja ceremony is a ritual during which people show their devotion to gods by prayer, singing and invocations.) Instead of a Puja ritual, people dive into fun activities from almost dawn: the colour plays begin all over cities and villages. People soak each other in a mixture of water and coloured powder with the help of water balloons, sprays and even sometimes buckets. Now, it has become so popular, that people is the West also celebrate it with huge Holi colour festivals.
Holi Procession
In some states during Holi, there is something called the Procession. During this ritual, boys and men who have been absolutely drenched in colours, have to go around their hometowns and sing Holi at every house. Once the song has ended, they'd get some sweet delicacies, and then they'd be off to the next house.
To feast your eyes on something, here are the Holi festivities in a series of astonishing pictures.
Are you crazy enough to come along for the ride? Then join us on the next
India's Cup
. Get a team together and let's see you at the starting line! If you want to join us in spirit, like us on
Facebook
or follow us on
Twitter
to keep up with our latest antics.
About the Author