Top Things to do in Mysore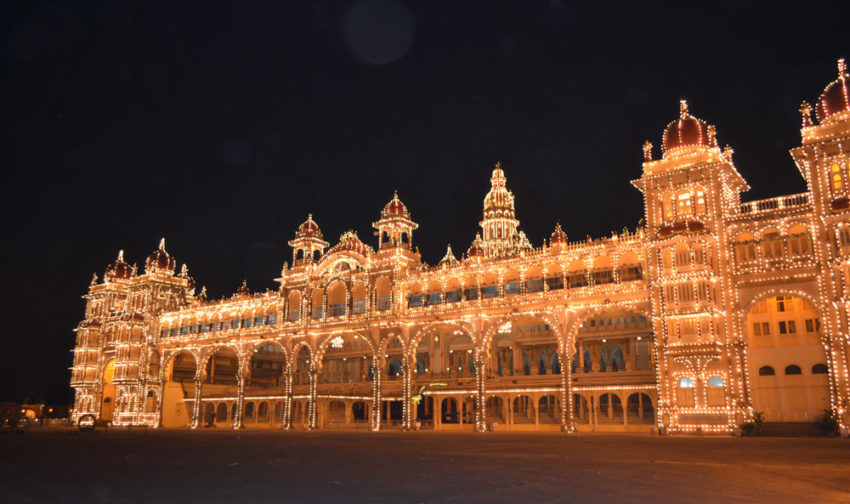 Mysore was the capital of the Kingdom of Mysore for centuries (1399-1947 A.D.) Located in the beautiful state of Karnataka, this place is centered on history and culture. The best part: you can fill your days with an umpteen number of things to do in Mysore, all of them infinitely interesting.
Mysore Palace
The sound choice to start with, the center of the Kingdom of Mysore has been iconic for being the home of the Wodeyar maharajas for many, many years. Unfortunately, there was a fire in 1897 that destroyed a large part of the palace, but a British architect renovated it around 1912. A lot of beauty will surround you once you enter the premises, with colorful stained glass, mosaic embellishments, sculptures and breath-taking wooden carvings all over. You must check out their armory, which has more than 700 pieces of weapons on show.
Brindavan Gardens
People who find comfort in symmetry and nature will have the time of their lives strolling among the gardens. Located just 24 kilometers away from Mysore, this 60-acre public garden is planned to the last detail, with huge terraces and musical fountains and all sorts of vibrant botanical wonders all over. There is a pond where people can go on a boat trip, but you can also just lie out in the sunshine and have a small picnic.
Mysore Zoo
It doesn't matter if you're with kids or with friends, who WOULDN'T want to go to the zoo to see exotic animals? It is a rewarding and extremely cheap way to have fun (adult tickets cost 70 cents.) They have all sorts of mammals, reptiles and birds, like tigers, snakes, rhinos and you can learn a lot of new things about each and every one while walking through magnificent surroundings.
Shivanasamudra Falls
Not exactly in Mysore, but near enough, "Shiva's Sea" is something that every traveller must see. People say that the best time to visit the waterfalls is during monsoon season (July to October). Ranked 45th in the World Waterfall Database, and says a lot for green energy, too: India's first hydro-electric power station was set up here in 1902.

Are you crazy enough to come along for the ride? Then join us on the next
India's Cup
. Get a team together and let's see you at the starting line! If you want to join us in spirit, like us on
Facebook
or follow us on
Twitter
to keep up with our latest antics.
About the Author