Take Me To Thanjavur… and Leave Me There Forever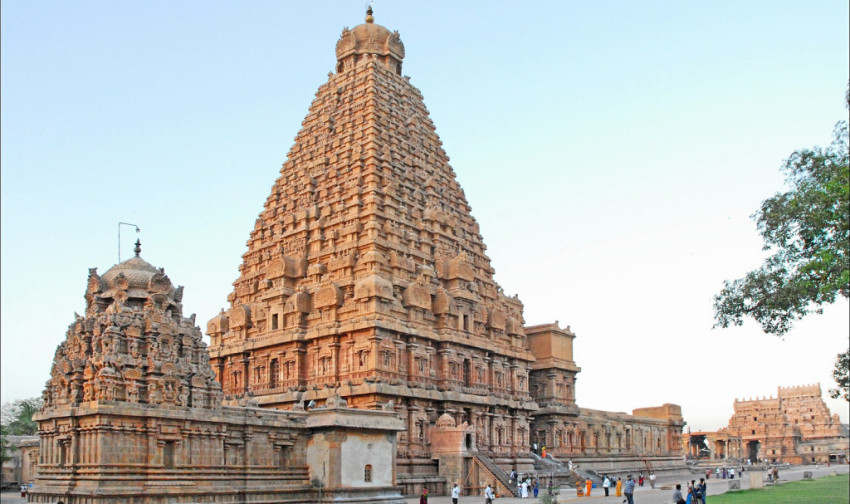 Thanjavur is one of the gems of Tamilnadu. It is a melting pot of ancient architecture, culture and religion, with UNESCO World Heritage Sites scattered in and around it.
Dancing the Dance of Gods
Thanjavur is the perfect example of how traditions and religion can form a wonderful pair. The God of Dance, Shiva Nataraja, had an important role to play in Chola martial traditions: the dynamic dance pose that Shiva is always portrayed in is very similar to the victory dance of Chola warriors. Members of the Chola dynasty were fond of Shiva Nataraja's powerful dance. Among the main offerings to Shiva was the act if dance itself; hundreds of women dedicated their life to dancing for Nataraja. They were called devadasis, or temple dancers. One of the Chola rulers, Rajaraja I. (who reigned from 985 to 1014 AD) built the Bhrihadishwara temple in Thanjavur and it is believed to have housed more than four hundred temple dancers.
Charge Up on Good Luck at the Bhrihadishwara Temple
After the history lesson above, the Bhrihadishwara Temple is a sight that has to be checked out. Its marvellous architecture is the symbol of Chola greatness. Built in only seven years, it has mesmerized everyone who laid eyes on it – no wonder it is listed as a UNESCO World Heritage Site. Search for the temple's elephant under one of the gopurams – it will provide you with good luck if you present it with a rupee. Step further inside and you'll find multiple shrines, frescoes of deities and dances, and elaborate sculptures – you'll also see a gigantic, 6 meter-long statue of Nandi, the sacred bull of Shiva. Fun Fact: The statue of Nandi was carved out of one stone.
Enter the Thanjavur Court of Royalties
The Royal Palace will take you back to many different centuries in Thanjavur. Originally, the Palace's first half was built by the Nayaks after 1535, and it was completed by Maratha rulers between 1676 and 1855. There are seven main sights within the Palace that you can check out, but if you're short on time, narrow the scope to the Art Gallery, the Palace Courtyard and the Saraswati Mahal Library Museum.
Don't be surprised if you see unexpected things during your visit; the courtyard resembles a lost, forgotten garden, and the Library Museum contains interesting reads about medieval practises and Chinese torture methods. Jaw-Dropping Fact: Over the years, Serfoji II. collected a dizzying 65,000 books and 50,000 manuscripts in multiple languages.
Oh, and don't forget to walk around the Nayak Courtyard: you'll find great examples of Chola art everywhere!
Join the Festivities and Dance!  
Chidambaram is the home town of the well-known and loved Natyanjali Dance Festival. Organized by the Tourism Department of Tamilnadu and the Natyanjali Trust, the festival is spreading its wings and moving on to other cities, too: Thanjavur, Chennai, Kumbakonam, Nagapatinam, Mayavaram, Thirunallar and the Thiruvanaikoil temples of Tamil Nadu. Each year, it is organized around February and March. Professional dancers and teachers come from all over India to showcase their amazing talents, so you may be able to learn a couple of moves! Performers show a large variety of traditional dances from all the corners of India, so it'll be a great way to deepen your cultural knowledge. The Natyanjali Dance Festival also provides a wide array of local dishes and seafood, so foodies, Bon Appétit!
Buy Some Culture
It will be impossible for you to leave Thanjavur without a little souvenir (or two. Or three…) neatly tucked away in your luggage. So what are the things that you should buy? For starters, you'll notice that there are beautiful, vivid paintings for sale throughout the city. Thanjavur paintings are an iconic part of this city and are quite valuable; they're usually fitted with semi-precious stones and gold foils. If you want to buy paintings for a reasonable price, look for South Keezha Veedhi.
The other category that you can choose from is traditional handmade merchandise: artful brass sculptures, silk fabrics and carpets are all available for great prices at government-managed stores, and well worth it: when you're back home and on your way to work, just imagine the wonderful memories that will pop into your mind when you look at these…
Are you crazy enough to come along for the ride? Then join us on the next
India's Cup
. Get a team together and let's see you at the starting line! If you want to join us in spirit, like us on
Facebook
or follow us on
Twitter
to keep up with our latest antics.
About the Author