"One Mad Drive": The India's Cup Experience, As Told By Mal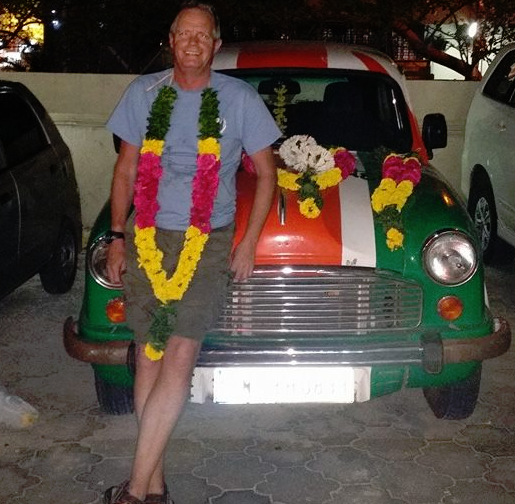 To embark on a travel adventure involving India, cars and driving endless hours through unknown places, one needs to have a certain inclination to leave his/her comfort zone. Well, Mal Gudgeon did just that: he was looking for an adventure. And alas, it seems like he found one…
Tell us a little bit about yourself and why you decided to join the India's Cup!
I'm 58 years old and a few years ago, after quite an adventurous life, decided to slow down a little.  A couple of years down the line and boredom set in and I decided it was about time I had another adventure! With my family, I had visited India several times before, (North and South Goa and Kerala)  What better way to see a bit more of the country than to drive!
What was your most "only in India" experience during the Cup?
We had many, from a motorbike with a plank of wood at 90 degrees to the bike with 2 children balancing on each side to a 'double-decker' tuk-tuk with 14 people onboard!
What was your first thought when you saw that driving in India was something entirely different than what you're used to?
We had ridden motorbikes whilst on holiday so we knew it was going to be hectic – however, nothing quite prepares you for driving in rush-hour in Hyderabad!  However, because the roads are so insane, if you do do something totally stupid, it doesn'treally matter, most people won't even notice and if they do, they don't care.
Which city or town did you love most and why?
India is such a diverse place, there are so many things to love (and hate) wherever you go.  Personally, Ooty in the Western Ghats was something quite special, and the roads in and out are some of the most spectacular I've ever driven.
What was your craziest experience during India's Cup?
It was just one mad drive…all of it!  When our car broke down (blew up) in Hyderabad, a policeman told us to move on and break down somewhere else! We were stopped on one occasion because our car was the wrong colour!! Once when we broke down, (leaking radiator) some guy took our radiator out, put it on the back of a young lad, sent him to the nearest town (20km) got it fixed, refitted it and got us going again for the total sum of approximately £4.00 sterling! Whilst we were waiting, his family kindly gave us hot Horlicks to drink… in shot glasses!
Did you have any problems/breakdowns en-route?
Several, none of which were terminal.  Sometimes we had to enlist some local help, sometimes we just needed to borrow a spanner.
What was your favourite food or drink that you'll cherish forever?
I am a great lover of most Indian food but when it comes to drink, an ice cold Lassi takes some beating!
Do you have any lifesaver tips of tricks for future participants?
Never, ever drive at night.  If I had to give 100 tips on how to stay alive on Indian roads, this advice would be the first 99 of them!
When you are driving, just change your mindset and adjust your driving to wherever you are. If in a town/city, there is absolutely no point in trying to hurry, likewise, if you are on a single track country road with a bus right behind you, there is no point in trying to go slow!! As for navigation, we found an amazing navigation app which works purely on location and doesn't require an internet connection which is brilliant (and will remain a secret!!)
Take a cooler bag with some ice blocks and drinks – once out of town, fridges rarely get turned on and you won't get a cold drink (and you WILL need one)
Take a dash-cam/go-pro or similar – 15 months on and I still look at my video footage.
Would you embark on a similar adventure again soon?
Hoping to do the next one.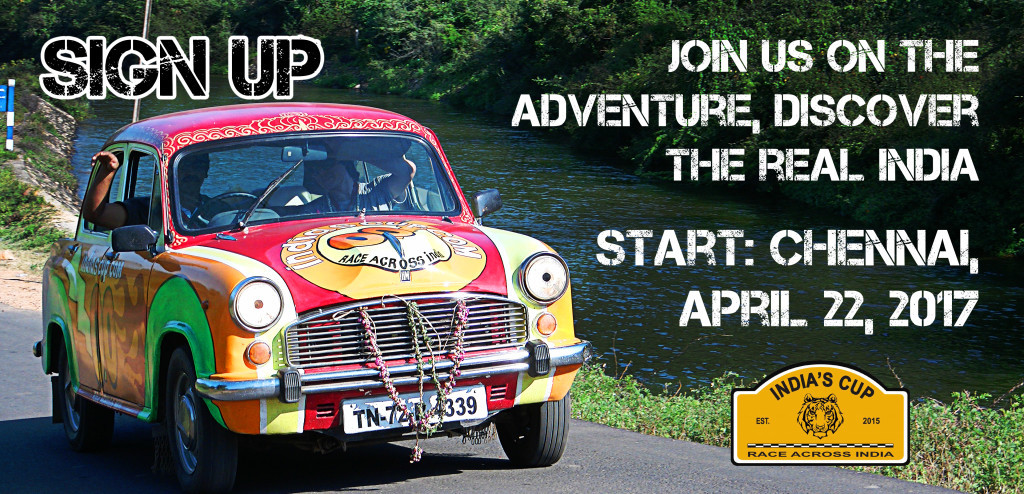 About the Author