Free Trip to South India – Kick Off 2015 with an Adventure!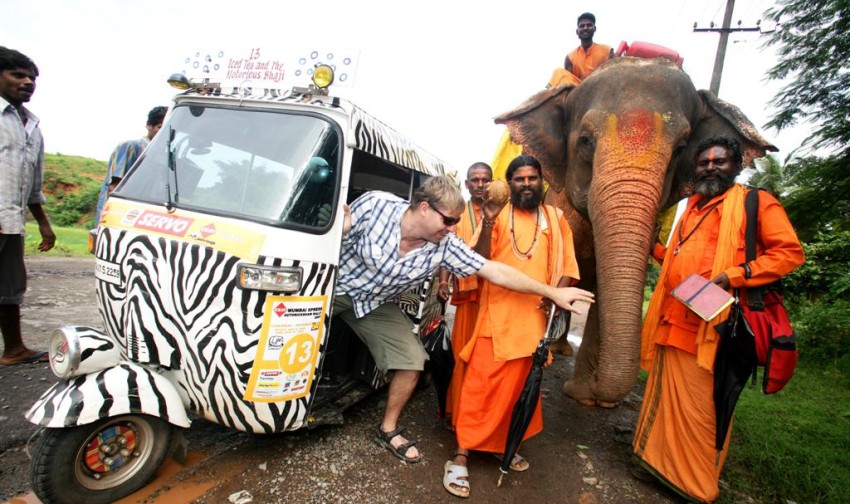 Calling all media savvy writers, travellers and PR pros! I've just got a place on the Rickshaw Challenge and the India's thanks to my sponsor GamingZion, and I need a couple of travelling companions to come on the road with me on the Classic Run from Chennai to Trivandrum in Kerala, and on the India's Cup, a new rally going round South India, including stops in Mumbai, Goa, Kerala and more.
The ideal candidate
Basically, the people I'm looking for to join me are not prissy travellers. If you like luxury and staying in 5 star hotel resorts with a cocktail in hand, this is not for you. But if you like getting your hands dirty, fixing broken things by the road side, have a healthy taste of adventure and know how to keep your cool then you'll be perfect!
The ideal candidate to join team "High Rollers" will not only be someone who is clearly fantastic to travel with, but I will need someone who has good writing skills and is PR and social media savvy. I need a team to work with GamingZion.com, an online gambling director, as well as on the rally promotion. This would entail articles, social media networking and PR, reaching out to the press, and also help me brainstorm and come up with ideas for sponsorship, such as a design to pimp our 'shaw. I'd also like to offer multimedia press materials, so more than just writing, I'm talking about taking photographs, making and uploading small video clips, for example. You'd also need to be in India 26th December 2014 – 7th February 2015. You'd attend the rallies and join my media team in Chennai for the period outside the rally for pre-coverage and post-coverage of events. Think you fit the bill? Read on!
About the Rickshaw Challenge
The Rickshaw Challenge is a road trip for the clinically insane, where we'll get to spend 10 days driving 1000km in a rickshaw, which is essentially a three-wheeler with the horsepower of a lawnmower, down the coast of South India. It's been officially rated by Lonely Planet as one of the Top 10 Adventures on the planet , and I've been dying to go ever since I heard about it! The Rickshaw Challenge is a huge event – with 20 teams this year – and has even been mentioned by the BBC, CNN Travel and Wired, and yes lads, it's also appeared in Playboy and FHM. It's going to be epic since 2015 kick-starts the 10-year celebrations of the Rickshaw Challenge.
About the India's Cup
This is a brand new rally from the Travel Scientists, the brains behind the Rickshaw Challenge. This brand new rally will explore the best of India, starting off with the Winter Rally in January focussing on South India. The idea is to explore India's nostalgic car culture, so participants are encouraged to undertake the rally in the famous Hindustan Ambassador. The India's Cup is a circular route going from Chennai to Chennai, up to Hyderabad and across to Mumbai, then down to Goa and Kerala and back up the Tamil Nadu coast, offering 15 days of culture and adventure on the road.
What is included?
If you think you fit the bill, you'd basically get a free spot on the Rickshaw Challenge and the India's Cup with accommodation thrown in, although you'd have to share with me. Expenses that are not covered are food and drinks.
However, if you have some sway in social media and you are influential on the social networks or in the press world, then I can convince GamingZion to sponsor up to $800 for your ticket! Also, successful candidates would also get a stipend of $1000 for the month and a half in India, since I am looking for top quality people to work with on this project.
Also, because travelling on a rickshaw is exhausting, and we'll be there for work, we won't be spending the whole Rickshaw Challenge in the back of a rickshaw, but rather following on by car. This doesn't mean you won't get the chance to ride in a rickshaw and get a feel for the experience, since we will be more than welcome to ride along with the other teams in their rickshaws for part of the ride.
Get in touch!
If you think you tick all the boxes, fancy coming along or want to know more about the Rickshaw Challenge and India's Cup (or about me!), then drop me an Email and send a bio to me.
Wish I saw this earlier...would have jumped at the opportunity, currently looking for someone to do the Rickshaw Challenge with.