Time for Fun and Games: Amusement Parks in India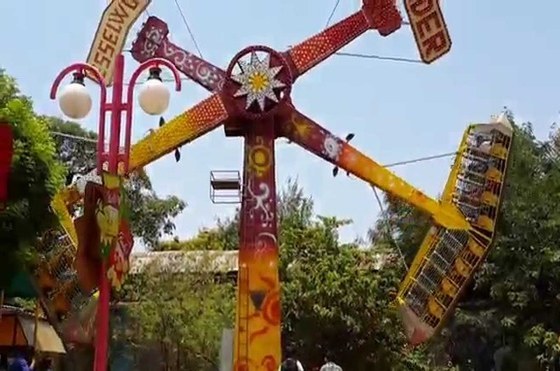 Have you taken the Rickshaw Challenge? Are you up for an encore? If so, you'll fall in love with these amusement parks in India. Park your tuk tuk in front of any of these and let your second helping of fun begin!
Picture source: YouTube
Essel World
 The largest amusement park in India, so it can and will keep kids and adults alike entertained till the (holy) cows come home. Go for a ride on the Shot-n-Drop to experience 4G force at 190 feet, or live out a lifelong fantasy of surviving a spin cycle (I know. Each to their own.) on the Top Spin, or finally – and vicariously – taking revenge on the nonce who took your parking space that morning three months ago when it poured buckets and you forgot your brolly, the Dodgems are here just for you! Extra bonus: when you've let off all the steam you thought you could, Essel World's beyond-impressive range of junk food outlets will have you refuelled and back on a ride in a jiffy.
Wonderla, Bangalore
 http://www.wonderla.com/bangalore-amusement-park/
 A fairy tale by name that more than lives up to it: the wiggiest water slides and crazy, twirly-whirly rides will make you reconsider your life choices…Once the mega high sugar rush the food here gives wears off, that is. Oh, there's things for kids here too, what with this being an amusement park and all: one of these is Recoil, a gigantic roller coaster that sends them hurtling and screaming and wailing through a series of loops… Well, for once, they'll be screaming their little heads off for a reason, so that's worth coming for alone, no? Oh yes: Wonderla also has amusement parks in Hyderabad and Kochi, yay.
 Queensland, Chennai
 http://www.queenslandamusementpark.com/
Who wouldn't want to go on a Himalayan Water Ride or the Alpen Blitz? Thankfully, many of our Rickshaw Challenge runs do visit Chennai, so you'll probably have a couple of hours to pump up your sagging adrenaline levels right back up, doing things like freefalling from a 150 foot tall tower, over and over as many times as you want, Groundhog-day fashion, then celebrate your indestructibility aboard a dinghy and let the lapping of the waves soothe you till you drift off to la la land. Perfect.
 Kingdom of Dreams, Gurgaon
 http://www.kingdomofdreams.in/nautankimahal.html
This place practically oozes mystery. It blends the rich culinary cultural heritage of India with local, Lebanese and Chinese cooking and a flurry of breath-taking attractions that'll quite simply blow your mind! You can eat and shop your way through tea houses and libraries and ethnic jewellery shops; and if you become thirsty for some fun, visit one of the numerous street bars. They have a cool place called the Mystic Centre, and each day you'll be one of the lucky individuals who can witness the Carnival of Indian Folk Art & Dance. Naturally, Bollywood also gets a say in matters, with viewings and movie features.
 Ramoji Film City, Andhra Pradesh
http://www.ramojifilmcity.com/about
Everything's about – wait for it –  cinema here. This 2000-acre city is dedicated to everything flick-related; the place is listed by the Guinness World Book of Records as the world's largest Film studio complex. Some 1.5 million tourists visit this site every year; some couples even have their weddings here!
Aquatica, Kolkata
 http://www.aquaticaindia.in/Default.aspx
As the name might suggest, this park is famous for its water-based attractions. You can walk through the Niagara Falls or close your eyes and hurl yourself down a wacky water slide, but you can also let your fear take a hold of you in the pendulum that'll have you swaying from side to side on a gigantic slide. One the opposite end of the spectrum, you can have a good, long drift in the Lazy Pool perched on a floating tube. Once the real summer heat hits, Aquatica might just become your cooling off go-to, so do bookmark it now.