The Beloved Ambassador Car Is Making a Comeback with India's Cup – Southern Xpress 2015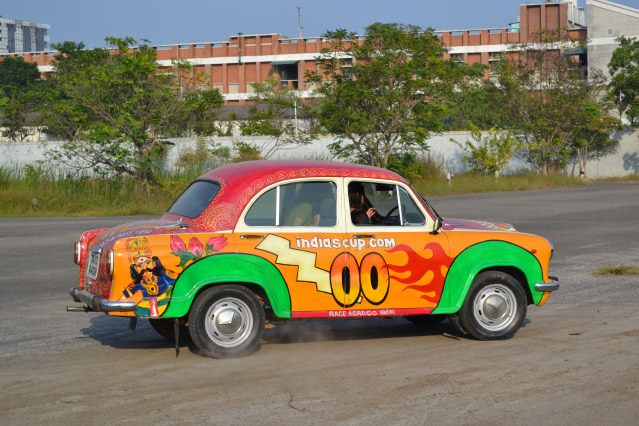 Earlier in May, when newspapers in India announced that Hindustan Motors Ltd would halt production of the Ambassador car, everyone thought this would be the end of the road for India's most beloved car. But the famous brand is making a comeback with our India's Cup – Southern Xpress 2015.
In mid-January, this classic car rally will take off on a unique adventure, allowing participants to explore the beauties of South India. Driving across all South Indian states, giving them a few days to get to know Goa and Maharashtra in Western India, this adventure rally will allow our friends to discover the Indian culture in style, from the comfort of their Ambassador cars.
For decades, the iconic car was very popular in India. It wasn't until the mid-1980s that it began to lose its dominance to the Maruti Suzuki 800 hatchback. But this year Hindustan Motors announced it was going to stop producing the Ambassador car, claiming that it's just not profitable anymore.
The Ambassador – a true classic
Inspired by Britain's Morris Oxford, the HM Ambassador was the first car to be made in India. Over the years, it became a symbol of the local culture, being the number one choice among politicians, bureaucrats and Indian officials, who were often seen in classic white Ambassador cars with a red beacon on top. In some cities across India, these models are still in use as taxis.
But this May, Hindustan Motors announced it was halting the manufacturing of its core product due to "worsening conditions" at its plant in Uttarpara. The company cited very low productivity, growing indiscipline, lack of funds and demand, as well as liabilities.
In the fiscal year ending March 2014, Hindustan Motors sold about 2,200 of these cars. Compared to the 1.8 million passenger cars sold throughout the country during the same period, that number is insignificant. Local dealers said the cheapest Ambassador car cost $8,800.
Despite the decline in the car's popularity, it remains one of the most popular cars in India. Although it's not very fuel efficient, many taxi drivers still prefer the HM Ambassador, because of its roomy interior and classy look. At the end of 2013, there were about 33,000 Ambassador taxi cabs in the city of Kolkata.
India's most beloved car returns
Always looking for new ways to bring adventure and culture together, the Travel Scientists have come up with a fresh idea for a truly amazing experience. India's Cup – Southern Xpress 2015 was designed for tourists who would love to discover India by car.
To make things more interesting, we're inviting adventure-loving tourists join us on a road trip through South India. For 15 days, you'll have the chance to ride in style, driving a classic HM Ambassador. If you want to stand out from the crowd, you can even pimp you car to give it a crazy, fun look!
Our journey is 15 days and 3260 km long, but it will give you the chance to explore the wonderful cities of Chennai, Vijayawada, Hyderabad, Pune, Mumbai, Panaji, Chitradurga, Mysore, Coimbatore, Kochi, Tiruvanathapuram, Tuticorin and Thanjavur. But make no mistake, this is not a race or a driving competition! This is a cultural journey offering you the chance to discover India in all its beauty.
So get behind the wheel of a classic Ambassador car and join us for an adventure through South India, between January 18 and February 1! We guarantee it will be a once-in-a-lifetime experience.