The Curries of Southern India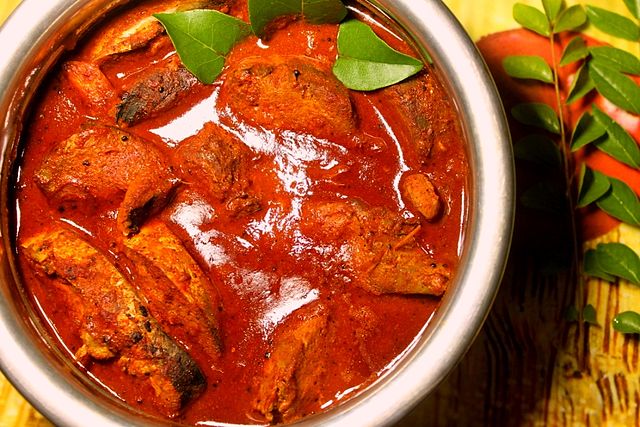 Each state we visit has its own specialities.
Photo by Seena.ge
The India's Cup minimal assistance rally specialises in the adventure and excitement of the open road. It's also about embracing authentic Indian culture, part of which means getting to know local food. For many travellers experiencing Indian cuisine will be the highlight of their trip, but some will be surprised by how much "typical" meals differ between the various places we visit. Flavour, ingredients, and cooking methods all change within South India and (while it's just one part of a phenomenally diverse cuisine) curries are a good place to start learning about these variations!
Tamilnadu
You don't need to have visited India to know that curry is a broad term for Indian dishes, usually using a mixture of spices, prepared in various sauces. In Tamilnadu curry tends to be vegetarian, in common with the state's traditional cuisine generally. However, in coastal areas, you can also often find  seafood curries, like the (delicious looking!) crab dish pictured above. Tamil curries often include lentils, and the states's distinctive favourite flavours, such as tamarind. A popular style is known as Poriyal and, like most curries in Tamilnadu, is commonly served with rice.
Kerala
Curries in the heavenly state of Kerala frequently use coconut (paste or milk) mustard seeds, and curry leaves (that is, the leaves of the actual curry tree). Befitting it's reputation as the "Land of Spices", in Kerala you can expect incredibly flavoursome curries, particular in meat and fish dishes. However, traditional dishes of the state tend to be vegetarian. The dish for which Kerala is most famous is Sadhya, a giant banana bread, upon which is placed boiled rice alongside a variety of other small dishes, usually including curries. Trying this style of cuisine will undoubtedly be one of the most memorable moment's of the India's Cup!
Karnataka
Karnataka is a large state, so a wide variety of cuisines and influences can be found. In different parts of the state, meat, fish, or vegetarian dishes are popular, and with different levels of spice. The town of Udupi, in Karnataka, gives its name to a nationally important style of cooking, which forbids the use of meat, fish, onions, or garlic.
Goa
With its coastal location, Goa's speciality is fish and seafood. However, with centuries of Portuguese influence, the meat isn't bad either. Goa was where the "vindaloo" was invented, originally known as "vinha d'alhos", referring to its central ingredients: wine and garlic. However, the versions you'll find across the world are quite different to how it will originally have been made in Goa. The food here does tend to be spicy, though, and often features kokum, known as the "Malabar tamarind". If you want to know which style of South Indian curry is best, there's an easy way to find out… join us for this year's India's Cup!

Are you crazy enough to come along for the ride? Then join us on the next
India's Cup
. Get a team together and let's see you at the starting line! If you want to join us in spirit, like us on
Facebook
or follow us on
Twitter
and
Instagram
to keep up with our latest antics.
About the Author