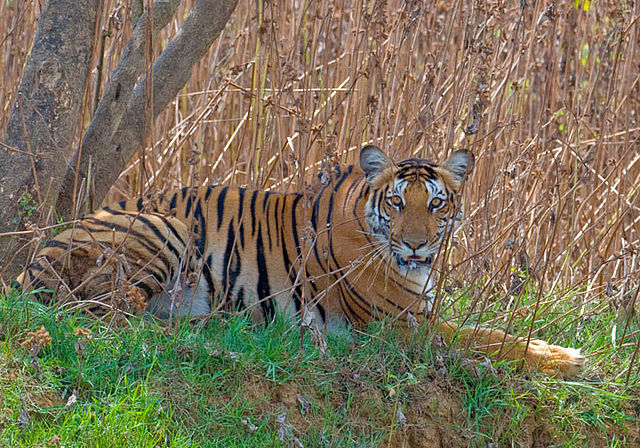 Photo by Yathin S Krishnappa
What can you expect to see at Karnataka's Nagarhole National Park?
It would be a waste to go to Southern India without seeing any animals, and there's not many better places for that than Nagarhole National Park. Also known as Rajiv Gandhi National Park, you can find it in the Mysore and Kodagu districts of Karnataka. With a wide variety of animals, diverse scenery, yet not that many tourists, there's plenty reasons to go!
Escape the Crowds
Nagarhole has the same animals as nearby Bandipur National Park, but far fewer visitors. There's a vast area to explore, with the park covering over 640 square kilometers. Together with neighbouring parks (Bandipur and Mudumulai National Parks, and Wayanad Wildlife Sanctuary), Nagarhole is part of South India's largest protected area at over 2000 square kilometers.
The Animals on show at Nagarhole National Park
Obviously, the number one reason to visit Nagarhole National Park is the Wildlife. There are elephants, leopards, deer, boar, monkeys, wild cats, hyenas, sloths, Indian bison and lots more. For many the highlight of their trip is a sighting of a Bengal tiger. Be warned, though: not everyone is lucky enough to catch a glimpse.
Only in India
Many of the animals you find at Nagarhole are unique to India. The chital (pictured above) is just one; others include the bonnet macque, and myriad varieties of birds. You might also spot the hunter-gatherer Jenu-Kurubas tribe, native to the area's forests. The government has attempted to relocated the tribe, but with their attachment to the forest and having no other way of life, they seek to stay.
Go down to the water
The dense jungle is best for catching a sight of large predators, but on a boat safari you'll see elephants and lots of birds, as well as magnificent views. Government-run boat trips and road safaris begin from the Kabani River Lodge, in the early morning and the late afternoon.
Sit back and Enjoy the View
The perfect end to a day at Nagarhole National park is watching the sunset over Kabini Lake, which separates Nagarhole from Bandipur. To see as much wildlife as possible the best time to visit the park is Summer, from April to May. If you prefer the cooler air of wintertime, go between November and February. The park is often closed altogether between July and October, when heavy rain drenches the entire area.
If you're excited to see Nagarhole National Park, it makes a great excursion while you're taking part in the India's Cup adventure rally. Next taking place in April 2017, the minimal assistance rally is an eleven day romp through the South of India, from Chennai down to the South of Tamil Nadu, then up through Kerala, eventually finishing in Goa. You'll see stunning scenery, historic sights, and have an experience you'll never forget!
Are you crazy enough to come along for the ride? Then join us on the next
India's Cup
. Get a team together and let's see you at the starting line! If you want to join us in spirit, like us on
Facebook
or follow us on
Twitter
and
Instagram
to keep up with our latest antics.
About the Author