Why You Should Visit the Western Ghats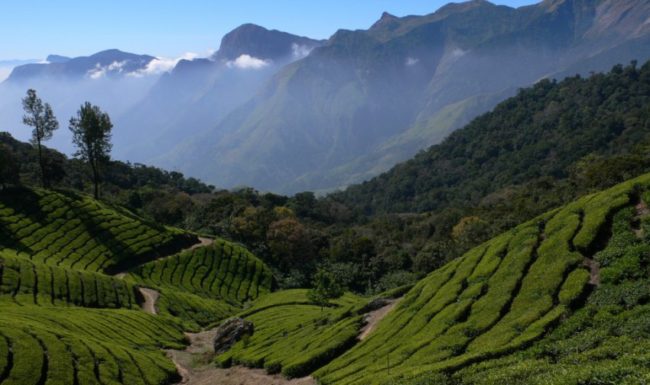 Here's why you should visit the Western Ghats.
Sometimes India's cities can be a little too fast-paced, a little too busy, and often a little too hot. When you need to take a break from the crowds, there's no better way than to visit the Western Ghats. The mountain range in South West India is one of the world's top biodiversity hotspots, with innumerable wild animals and exotic plants. There are so many reasons to visit the Western Ghats, here are just a few!
Visit the Western Ghats to Cool Down
Particularly on higher ground, a great reason to visit the Western Ghats is for cooler climate than elsewhere in India. With misty valleys and forest canopies offering protections from the sun, it's a world away from the sweltering heat of the city. If you really want to cool down, head to rainforests of the South-Western Ghats.
See the Incredible Biodiversity
For many, the top reason to visit the Western Ghats is their famous biodiversity. They are one of the "hottest hot spots" in the world for biodiversity, with a mind-boggling number of animals and thousands of species of plants. The Western Ghats are home to many hundreds of globally threatened animal species, including Asian Elephant and India's second largest population of tigers. The lion-tailed macque (above) is one of many endangered species unique to the area.
There are hundreds of species of mammals, amphibians, freshwater fish, and many hundreds of bird varieties. You'll find wild buffalo, muggar crocodiles, gaur (the Indian bison), leopards, sloth bears, and many more. The forests of the Western Ghat are also known as the world's greatest pharmacy, with local experts able to find medicinal use for the myriad varieties of flowers and natural plants.
The Western Ghats are… big
There's a lot to see. Home to thirty-nine UNESCO World Heritage Sites, North to South the Western Ghats span 1000 miles, parallel to much of India's Western coastline. They begin in Gujarat in the North, and pass through Maharashta, Goa, Karnataka, Tamil Nadu and Kerala, covering an era of over 160,000 square kilometers. The mountains themselves are also large. The average elevation is just under 4000 feet with the highest peak, Anamudi, reaching almost 9000 feet. Notable peaks can be found in the Annaimalais (the Elephant Hills), and the Nilgris, where the Western and Eastern Ghats meet.
See the Beautiful Plantations
If there's only one reason to visit the Western Ghats, it has to be the stunning beauty that's on show there. Munnar, above, is a hill resort once favored by the British raj for its sloping hills and vibrant colors and host to many coffee and tea plantations. Plantations growing spices, coffee, and tea, are visible all over the Western Ghats and many — particularly those in Malnad and Nilgris — are popular tourist destinations. Whatever kind of scenery you appreciate, there's something for you.
Explore the Western Ghats' Hidden Mysteries
Older than the Himalayas, the Western Ghats have plenty history. There are many monuments standing proudly on hills, including Parvati Temple, pictured above, and many temples to be found deep in the forests. Some temples serve as popular spiritual destinations for Indians, while others lie in ruins. The geological conditions also make it perfect territory for caves, and there are many impressive examples of rock-carvings within them. Underneath the hill fort of Harishchandragad (pictured above, photo by CJ Samson), you will find Kedareshwar cave, usually flooded but containing ancient carvings. There were originally four pillars, of which only one remains, and it's said that when the final pillar collapses the world will end: so, there's a reason to visit the Western Ghats soon.
There's a lot to do
No matter what kind of holiday you want, there's plenty to do in the Western Ghats. You can relax in the hill stations, where the British would once have holidayed. You can explore the region's history, searching out temples and hidden caves. You can even search for tribes, or at least villages still living according to ancient traditions. Naturally, if you like animals there's years of exploring to be done. One thing every visit must do, though, is experience the local cuisine. As the region encompasses several states, which themselves can be incredibly diverse, culinary influences vary widely, so there are many different highlights to try!
You can visit on the India's Cup Adventure Rally!
If these reasons have you dreaming of a visit to the Western Ghats, you're in luck: the India's Cup minimal assistance rally, next taking place in April 2017, will offer you the perfect chance to see them. Participants set off from Chennai, heading South through Tamil Nadu, before driving up through the Western Ghats towards Panaji in Goa. On the way you'll have the chance to experience the diverse beauty of the region, interact with locals and, of course, drive the Western Ghats winding mountain roads!
Are you crazy enough to come along for the ride? Then join us on the next
India's Cup
. Get a team together and let's see you at the starting line! If you want to join us in spirit, like us on
Facebook
or follow us on
Twitter
and
Instagram
to keep up with our latest antics.

Writer
at
Travel Scientists
David is a writer currently living in Belgrade, Serbia. Originally from Scotland, he was previously based in Budapest, Hungary and Tbilisi, Georgia.
About the Author