The Most Spectacular Temple in Southern India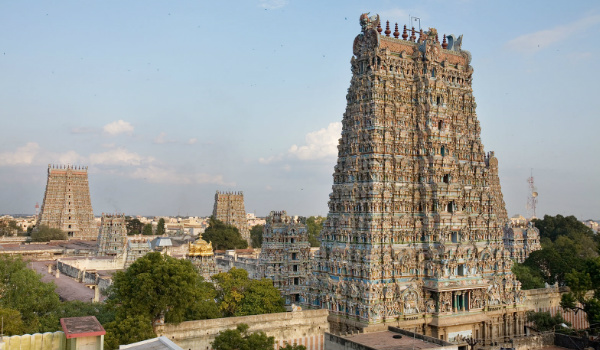 Meenakshi Amman Temple is regarded by many as the most spectacular temple in Southern India. 
Photo by Jorge Royan
Locals consider Meenakshi Amman temple the eighth wonder of the world, and that's not just their pride talking: the architectural marvel was among the worldwide entrants considered for a position as one of the "New 7 Wonders of the World". It wasn't chosen, but it still ranks as probably the most spectacular temple in Southern India. It dominates the skyline of "temple city" Madurai, in Tamil Nadu, and is one of the highlights of the India's Cup adventure rally.
What makes Meenakshi Amman so spectacular?
The inside of the temple is vast and gorgeous, but it's the outside that makes it truly special. Over each entrance gate stands a gopura, of which there are twelve. These are tall pyramid structures, reaching heights of over 50m, and are decorated with myriad colourful sculptures. These figures, and there are thousands of them, representing stories of Hindu myth. The Southern Tower, standing tallest at 170 feet, features over 1500 intricate carvings. To identity all the characters on even just one tower would be an incredible feat so just stand back and enjoy the artistry.
Understandably, the temple also spectacularly popular. There are 15,000 visitors daily, rising to over 25,000 on Fridays, and the annual Meenakshi Tirukalyanam festival has an attendance on an incredible one million, despite being held over just ten days. Despite the complex covering a vast 45 acres, it's still crowded.
The inside of the temple
The inside of the temple is also surprisingly colourful, featuring long corridors of reds, greens, and pinks. Wander these and you'll see beautiful pattern ceilings, carved walls and sculpted columns everywhere you look. You'll will find ornate shrines and grand halls, as well as charming courtyards. One shrine in particular to look out for is that of Meenakshi the warrior goddess, after whom the temple is named. A temple of such magnitude is rarely named for a female deity. She is the avatar of goddess Parvati, who married Shiva, to whom most Southern Indian temples are dedicated. Every evening a procession is held to commemorate the wedding night. It is also this marriage that the annual Chithirai Thiruvizha festival celebrates.
How old is the temple?
While most of the structure dates back to the 17th century, built between 1623 and 1655, there are parts that are far older. The Eastern gopuram was built in the early 13th century, but the temple's history goes back far further. It's said to have been the spiritual heart of Madurai since the 6th century BC, making it — if true — over two and a half millenia old, and was mentioned in Tamil literature over a thousand years before the current structure was built. However, in the 14th century Mughals destroyed much that remained and plundered ancient valuables.
Pro-Tips for visiting Meenakshi Amman Temple
Non-Hindus are permitted, but may not be allowed to access the most sacred shrines (though there's much else to see). There is a strict dress code: women's shoulders should be hidden, as must legs of either gender, and it's best not to look too casual. Cameras are not permitted, but you might be able to use your mobile phone to take some snaps depending on the mood of the security guards! Most importantly, take your time: there's a lot to see! Early morning, especially early in the week, is the best time for a more peaceful experience. Alternatively, arrive on a festival day and soak up the atmosphere, so long as you don't mind crowds!
If you dream of travelling to Southern India, Meenakshi Amman temple is absolutely must-see. Luckily, it's on the route of the India's Cup, and there's no better way to experience the natural beauty and unique history of the region. Leaving from Chennai on April 22nd 2017, the minimal assistance adventure rally will head south through Tamil Nadu before travelling up the West coast, through Kerala, and concluding in Goa. It'll be a great adventure, and South India's most spectacular temple is just one of many breathtaking scenes you'll encounter along the way.
Are you crazy enough to come along for the ride? Then join us on the next
India's Cup
. Get a team together and let's see you at the starting line! If you want to join us in spirit, like us on
Facebook
or follow us on
Twitter
and
Instagram
to keep up with our latest antics.
About the Author