What You Need to Know about Udupi's Krishna Temple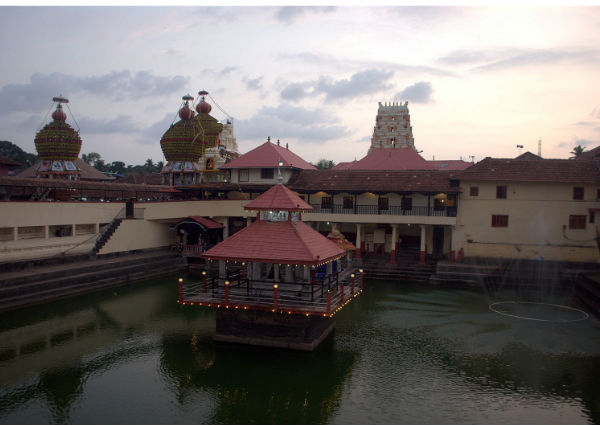 Udupi, a coastal city in the South Western province of Karnataka, is home to one of the region's finest temples. Just an hour north of Mangaluru, this is an important site of of religious pilgrimage in India, and a worthwhile excursion for anyone in the area, especially those involved in the India's Cup adventure rally! Here's what you need to know about Udupi's Krishna Temple.

Photo: Ravikiran Rao


Udupi's Krishna Temple
The Sri Krishna Temple is the perfect place to see Hinduism in action: witness devoted pilgrims, be astonished by women clad in beautiful saris, and, if you're lucky, you might witness the traditional rituals of a festival. The main temple dates to the 13th Century, and was established by Madhvacharya, one the greatest philosophers of Hinduism. For this reason it attracts visitors from all over India, with devotees particularly keen to glimpse through "Kanaka's Window", a tiny peephole where the saint Kanaka Dasa was said to have seen Lord Krishna.


Nowadays, pilgrims queue for a glance through the window in order to see the beautiful Krishna idol. Each evening the idol is taken for a procession, by chariot in the courtyard but first by boat on the temple's small pond. Accompanied by spiritual chanting and playing on traditional instruments, this is an authentic Indian experience not to be missed.


Surrounding Temples
The main temple is the centre of religious complex, and is surrounded very closely by other temples which are worth visiting in their own right. Several are actually far older than the main building, dating from the 7th or 8th centuries. They have proud histories as centres of religious study, with beautiful traditional architecture. It is common for pilgrims to visit these before entering the main temple. It's also worth seeing these at night, when the buildings light up.


Udupi Cuisine
For many Indians, Udupi is far less famous for its temple than for its food. The Udupi style began with the feeding of the temple's many thousands of pilgrims but is nowadays found in restaurants all over India, and increasingly worldwide. The cuisine is closely tied to Hindu culture and so follows very strict rules avoiding any flavours deemed "exciting": there is no meat, fish, onions, or garlic. Despite this, the vegetarian inventions you find in Udupi are famous for being among the best food in India and masala dosa – a kind of stuffed pancakes – has been rated one of the world's "must-try" dishes!
Pro-Tips for Visiting Udupi's Krishna Temple
A great way to try authentic Udupi cuisine is to eat at the temple itself, and better yet it's free! Every day between 12 noon and 3pm food is served to those who want it. During festival season, they'll even provide free dinner. One thing to be prepared for is that while is is permitted for guests to enter the temple, men have to take off their shirts to do so. Also, no photographs are permitted inside but watch out for cows, who roam freely around the complex.
India's Cup
If you want to see Udupi's Krishna temple (and try the local food!) there's no better way than by signing up for the India's Cup adventure rally. Beginning in Chennai on 22nd April 2017, over eleven days you will traverse South India, ending up in beautiful Goa. This minimal-assistance rally is the perfect way to combine personal adventure whilst having a great time with like-minded travellers. And, importantly, the rally stops in Udupi!
Are you crazy enough to come along for the ride? Then join us on the next
India's Cup
. Get a team together and let's see you at the starting line! If you want to join us in spirit, like us on
Facebook
or follow us on
Twitter
and
Instagram
to keep up with our latest antics.
About the Author